NOTE: Unfortunately, due to CRTC regulations Magic Jack can NOT transfer your current number (as stated in their ads) in Canada.
At Great Canadian Reviews we love technology, whether it is software or hardware based for the consumer market place. Our main challenge at GCR during our testing phase we always try to answer the question, "Does the product work as specified by the manufacturer and also give value for your money." I had seen the shopping channel ads on TV and web pages for Magic Jack Plus and had to admit their ads were creatively intriguing, but I really wondered if such a low-cost device would work as good as stated.
Curiosity got the better of me and I contacted Magic Jack to receive a unit for testing. Opening the box on receipt I really wondered if this product would give the consumer high quality voice calling at such a low price. In their ads, Magic Jack states you can use a magic jack Plus without a computer. That answer is 'yes' and 'no' and I will explain in detail. Beyond any doubt, the Magic Jack Plus does work without a computer once it has been registered and set up, but you must have a router to connect to the internet. You plug Magic Jack into a laptop or a CPU in order to register the product online. In addition, one can also purchase a phone number, which I highly recommend for $10/year and in United States; one can even transfer their current number over to the Magic Jack Plus system.
I was surprised at how easy the installation is to set up, register, and buy a local phone number on the Magic Jack system. First, you connect your computer to the Internet and plug in the Magic Jack to a USB port and a telephone into the Magic Jack phone port. In a few moments, an icon will appear on your screen. This opens the computer interface for the Magic Jack and then you can register your Magic Jack by a local number or transfer your current number to the Magic Jack. Once the Magic Jack has been set up and registered, and you have your phone number simply power down your computer and remove the Magic Jack from the USB port.
Now, plug the network cable into the Magic Jack Plus Internet router port, and using the power adapter you plug magic jack into the adapter and then plug the adapter into your power outlet. With phone still plugged into the Magic Jack simply pick up your phone and dial a long-distance number anywhere in Canada or the United States, and you're ready to start talking. It is that easy to set up the Magic Jack Plus first on your computer and then as a standalone unit plugged into electrical outlet, your router and of course, your telephone. You can use either your desk type or cordless telephone with the Magic Jack Plus. The Magic Jack Plus allows any user to make and receive phone calls without having a computer running. Once set up the Magic Jack Plus operates like any other phone system with the exception your calls are now routed over the Internet and no more long-distance phone bills or monthly phone charge.
The old adage "if it looks too good to be true it is" is not true of the Magic Jack Plus. A low-cost VoIP consumer oriented phone service. I was extremely doubtful of Magic Jack's ads showing customers making phone calls and having such great service with this low cost product. I started testing with the idea that the Magic Jack simply would not work properly and was not worth the money. I can honestly say I was absolutely wrong in my initial assumptions of Magic Jack Plus.
Having friends and associates scattered across Canada and the United States, I put the Magic Jack Plus to the test for several months. Dave our editor lives an hour away from London Ontario, and of course; it was long-distance calling to chat with him. It was not long before he, who like me, has family and friends living outside the local calling area also purchased the Magic Jack Plus.
At first, we discovered if I called from my Magic Jack Plus number to Dave's home number our phone connection would run anywhere from fifteen to the thirty-minute maximum. This was a bit annoying, as we would have to redial each time we were disconnected. I contacted Magic Jack Plus support and reported this problem of short calling time between Magic Jack Plus units. However, if we called from the Magic Jack to Magic Jack, we found out we could talk for about an hour before the call dropped. The hour limitation on call time was the same calling anywhere in Canada or continental United States. We were unable to determine if this was a server dropped problem or Magic Jack system problem.
I am happy to report that we currently can now make calls for duration of up to an hour and a half before calls get dropped. A simple redial and a reconnection is made.
With Magic Jack Plus, you get call answering, voicemail and caller ID, free and if traveling out of the country take the Magic Jack with you, and you can call back to Canada or the United States free. One of the unique features I really like using with the Magic Jack is a call-answering feature, which can forward a voice message to your e-mail address that you can set up when registering. Using a smart phone, tablet or portable computer you can check your e-mails and retrieve your voice messages. After the first year, yearly renewal on Magic Jack is $31 and of course another $10 to renew your phone number.
Magic Jack Plus tech support is always available 24/7 however, you cannot call support; you e-chat with their tech support online. They also have an extensive FAQ/Help database on their web site. During our testing phase, we have encountered some difficulty with the Magic Jack such as call dropping; however, the product does go beyond what is claimed in their advertising. With Magic Jack Plus, there are no monthly fees or long-distance telephone charges, and it will save you money in every-day usage. The voice quality is superb and the ability to call anyone across the continental United Staes and Canada without paying long-distance charges is the heart and soul of Magic Jack Plus.
During our testing, we have been extremely pleased with the high quality of voice calls, whether the phone is desk type or a portable wireless phone, Magic Jack Plus works well. To answer the question: "does Magic Jack Plus live up to the company's ads for the product?" From our testing, over several months even with the time limited connections and call's dropped Magic Jack Plus is a superb product for the money and offers the end-user abundant value for such a low-cost VoIP system. Over the past year Great Canadian Reviews have saved several hundred dollars in long distance charges using Magic Jack and Magic Jack Plus. Several satisfied friends and a few of our associates have actually bought and are now using the Magic Jack Plus on our recommendation.
---
Comments:
---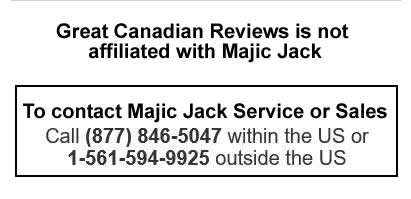 I have a magic jack plus and have found (using a cordless phone) that when talking sometimes it cuts out during the conversation. The best example of what it sounds like, is that if I was on a land line/service call and someone is calling you while you are on a call, some words are dropped from the conversation which lasts as long as the new caller stays on line or the call goes into voicemail.
I was wondering what might cause this and would it help if I used a corded phone?
Thanks Jim Hogan
Hi Jim,
Re Magic Jack issues...we use the MJ with cordless phones and have no problems.
You can try a corded phone, but cordless does work.
I do suggest that you go to the link below and e-chat with their support as they can check your device remotely.
When you do e-chat with MJ support have the device plugged into your computer, so they can run tests on the unit.
If you go to this link and click on "Live help in seconds" a Magic Jack representative will be happy to answer your query: http://www.magicjack.com/customercare.html
Magic Jack does have excellent chat support (I have used MJ support a few times) and they will work with your to pin-point and clear up the problem.
Best of Luck and thank you for writing us.
Donald Hughes
Publisher.
---
Is the review of MagicJack current? I have been encouraged by friends to adopt this approach to my cell service. They have successfully done so. Your review indicates that this is not possible in Canada.
thanks
James Mei
Hello James,
Thank you for writing Great Canadian Reviews.
Our Magic Jack review has the date listed in the headings March 19th, 2013 and our information was correct at the time of the article.
We do not and cannot speak on behalf of Magic Jack and their company policies.
Like any company Magic Jack always evolving for better service and changing their criteria, so what is current today may not be policy current tomorrow.
If you go to this link and click on "Live help in seconds" a Magic Jack representative will be happy to answer your query: http://www.magicjack.com/customercare.html
I hope your Magic Jack voyage will be a happy one.
Sincerely,
Donald A Hughes
---
David,
I read your review on the Magic Jack Plus, and have 1 short question: are you able to transfer your existing phone number to Magic Jack Plus in Canada?
I read that this was possible in the US, but was not clear if this will be possible in Canada.
Thanks
Frank Luccitti
No, it is possible to purchase a number, but NOT TRANSFER an existing number in Canada. Thanks for your enquiry. We will post this for other readers.
Dave Bell,