Reviewers Comments:

I must admit, initially I was dubious about testing and reviewing Serif's PhotoPlus X4. Previously I had tried several other much more expensive photo editing software products and was overwhelmed at the complexity of these other programs and the steep learning curve required to master them. Trying to work from a 400 page manual was never my cup of tea. Other less expensive software photo editing programs were easier, but lacked the power to accomplish the more professional look that I wanted to achieve.

Serif's PhotoPlus X4 changed all that. Their common sense approach to program layout and design is equally blended with a powerful editing engine. My first pleasant surprise was to find that the instructional 'How To' files were displayed on the screen beside the working area. This was excellent, since they were NOT on a popup window overlapping the working area and you didn't have to go looking for them. My first thought was 'How novel, why hasn't anyone thought of this before?'

Broken down into categories and sub categories by 'How To' tabs and 'Do This for Me' options, they were always there, right where they should be, on the desktop(see fig 1 Note 1) below: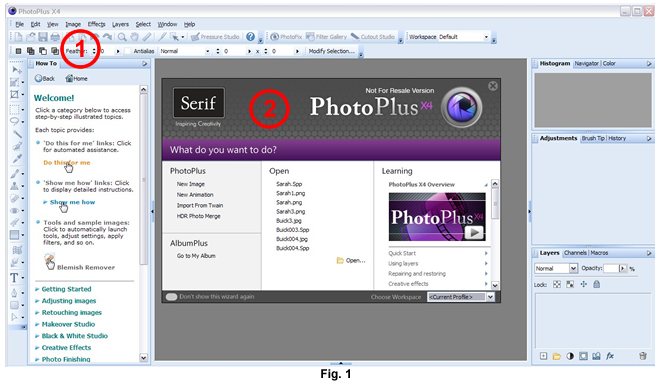 In the working area is the 'What Do You Want To Do' window. Here you can choose from opening the working area, selecting an animation, importing from Twain, HDR Photo Merge, Album Organizer (for organizing your photo's into albums) or the Learning Files program. (see fig 1 Note 2) above:
The next pleasant surprise was that after you had opened a photo to work on and saved it, the next time you opened PhotoPlus X4, an index showing the file(s) you had worked on previously were displayed by filename and when you moused over them a thumbnail photo of that file appeared. No more confusion as to which file(s) you were working on or what they were. (see fig 2) below: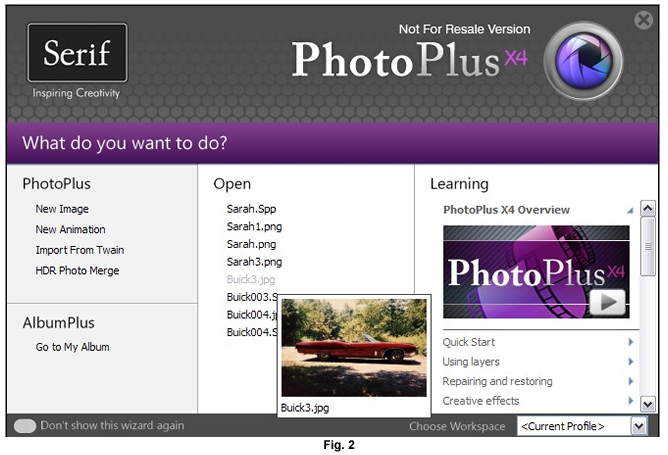 The first project I elected to try, was to see what I could do with an old photo of an old memory that had become yellow and faded with age, my 1968 Buick Wildcat (see fig 3) below. Using the 'Select from Twain' and 'Photo Fix' options and tweaking the slider adjustment bar to achieve the desired effect, I managed to restore the greens of the trees from yellow and restore the brilliant red of the car. Then using the 'Level Adjustment' feature and cropping the photo I managed to get the Buick back on level ground. (see fig 4) below:

My next project was to take a photograph of my 'partner in crime', Sarah a 6 year old German Shepherd (see fig 5) below, and create a portrait photo suitable for inclusion on her web site column "Sarah Says". After scanning the photo and erasing the background, I added a new background layer and using the 'Filter Gallery' created a diffused spotlight and grained effect. Next, using the Text Tool I added her personalized signature. (see fig 6) below: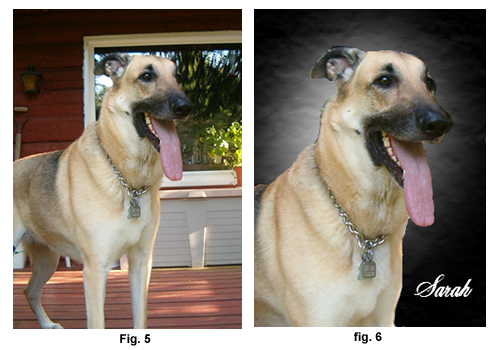 The final test was to see how well the subject project printed after editing. I printed out a copy of the Buick on 8 1/2 x 11 photo paper and a tear came to my eye. The memories of the old car, the beautiful day it had been were perfect and for a brief moment I was back 24 years ago still looking through the camera lens.

I have always found editing photographs a challenging task...until now. With the simplicity built into the powerful PhotoPlus X4 software it took less time to complete the two projects above than it did to write this review and much to my surprise, I found that I actually had fun doing them! The projects I tested Serif's PhotoPlus X4 with, barely scratched the surface of the capabilities of this powerful photo editing software. Included also as a bonus with this package is PanoramaPlus a 360 degree photo stitching application.

I highly recommend you visit their web site to view all the capabilities this software has to offer at a price several times lower than other comparable photo editing software.

Their common sense approach to user friendly application, powerful editing engine with multiple options, provided at an attractive price has earned Serif's PhotoPlus X4 the prestigious Great Canadian Reviews GOLD LEAF AWARD for Excellence.