This review deals mostly with Kaspersky's Pure 2.0 and 3.0 Total Security. For just over one year, we have been testing two of Kaspersky's antivirus products, Kaspersky Internet security 2012/2013 and Pure 2.0/3.0. I decided we were really going to kick the tires of this antivirus product to see how good it really was during a long period of testing both in Canada and in United States. During the testing, for the most part, reviewers: Dave, Dorothy, Thomas, Stuart using Kaspersky 2012/13 and Mary and Don using Pure 2.0/3.0. During the trial period all the researchers used the Internet for research, news, games product information and e-mail. In other antivirus products we have tested, the initial results were good, but we never subjected an anti-virus product to such a long test as we did with the Kaspersky products. This time I wanted to find out if an antivirus product did, in fact, live up to the claims made by the manufacturer.
The majority of our testers rarely experienced any problems with viruses, trojans or spyware during the test run, however the odd spyware bug or gremlin would crop up, but nothing of a serious nature. Stuart, prior to installing Kaspersky Internet Security 2013, was having bad luck with free anti-virus products and during his Internet research was plagued with one virus infection after another (more on this problem when we deal with the Kaspersky Internet security 2013 in another review). The Pure 2.0/3.0 Total Security packages were installed on my bench test plus two main PCs which had been running without any incident other than catching the odd piece of spyware or e-mail spam warning.
Kaspersky's Anti-virus products appear to do their job extremely well. The testing was, for the most part, (I hate to use the word) dull and becoming boring. Moreover, I was beginning to wonder if the product was working as stated or simply not doing the job of flagging any antivirus or Trojans daily. About once a week, I would run another antivirus scan in the background to see if anything was on the test machines. Much to my surprise, no infection or virus was found or any other hidden nasty surprises found on the hard drives. Other GCR reviewers and testers were reporting the same thing nothing to write home about; the program appeared to be working, as it should.
After several months of testing Kaspersky Pure Total security suddenly popped up an error message on my monitor warning me that the site I was attempting to view was infected, (see image 1 below) and I was blocked from entering the site, unless I absolutely want to do so. I looked on the monitor in disbelief with this glaring, red error square at the center on the screen telling me the website was blocked because it was infected by a virus. I was shocked by the sudden pop up of the red square blocking me from entering the website. I had been at the same website a few days prior and received no warning, so now I was very puzzled by this warning. Dave makes websites, and this happened to be one of the sites he had built for a client I was viewing.
I picked up the phone, and called Dave to inform him that there was a virus on this company's website, and I could not view the site using Kaspersky. Dave was using a different antivirus, and as we talked over the phone, he could surf the site and view all pages without incident. Now I was getting curious and puzzled, and again, I started up my spare laptop computer using Kaspersky Internet security 2012 and once again up came the red square with a virus warning, and I was blocked from entering the site. I then turned on another bench computer, which had another Internet security system installed, and much to my surprise, I was able to view all pages on the website with no error. Therefore, I fired up another bench test computer running another Internet security system and once again, I was able to view all the webpages.
At this point, I was puzzled. If Kasperskys Internet Security and Pure 2.0 products had really detected a virus or instead detected a false positive. Could we have hit a glitch or a program error/bug in the software? We all know Murphy's law: if it's not broke don't fix it. I uninstalled Kaspersky Internet Security 2012 from my laptop and installed yet another Internet security antivirus, which we had just reviewed. I rebooted the laptop, headed back for the website and suddenly I had warning screens appearing everywhere and the laptop crashed. Fortunately, I had a complete hard drive backup of the laptop, that I could restore after removing the virus now on the laptop.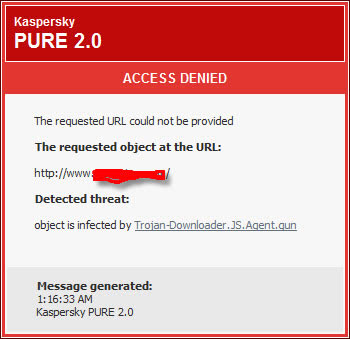 Image 1
I decided to contact Kaspersky lab tech support and inform them what happened during testing and our findings. I was especially curious as to why two security systems did not flag or warned me of an error on the site. Dave was thinking it was probably a false positive, or an error in the software, but I was unsure. Within 24 hours, I had a reply from Kaspersky Lab's tech support informing me that this website was indeed infected on every page and exactly where the virus was sitting in the code. I was extremely impressed at the speed and the quick response we received from Kaspersky Labs support in response to our query.
I was very disappointed finding that the last security installed did not block or warn of the virus, as the product was a fresh, updated install, prior to venturing back to the web site. The other two machines, running separate systems did not crash, but in fact, the virus was trapped and held in the quarantine file by the antivirus programs. Neither popped up a warning to let me know they had, in fact, captured the virus and prevent it from running on the test computers. When Dave and I started checking we discovered on his system, which was not running Kaspersky antivirus program, it had quarantined and blocked the virus preventing a system crash; but again did not display a warning. He was also running another system, and it did not capture or display a virus warning.
In addition to finding that bad website, Kaspersky Lab products have found worse links and block them prevented infections on our systems. I later received an e-mail from a parts supplier, promoting a web site on new products available. This site was badly infected. I clicked on the link back to the supplier's server and up came the Kaspersky red square warning saving me from contracting a virus. Kaspersky Labs Pure 2.0/3.0 and Internet security 2012/13 has repeatedly proven to us it is a stable and valuable software product to protect your computer, laptop or tablet. We were extremely impressed that on a couple of occasions we had to call or contact Kaspersky lab technical support and in both cases, the results and response time were excellent.
Do Kaspersky products work as stated and live up to what the company states on the information listed on their website? During our prolonged testing of Kaspersky lab products, we found that Kaspersky products are about the best protection you can buy for your computer. We were so impressed with our results that we now recommend Kaspersky Internet security products to all our readers and associates. Since the initial website warning and blockage, we have encountered many web sites during product and information research, which could have infected our computers, had it not been blocked by Kaspersky products.
One of my customers just asked; "Should I go with the Internet security package offered by their Internet provider or update their Kaspersky Internet security, which was soon to expire." My response was for them to recall if they had had a major virus infection since running Kaspersky Internet security on their computer and if the answer was no, then an upgrade would be worth the cost. Yes, they have now upgraded their Kaspersky Internet security package. Regretfully, there is no antivirus product in the market that is 100% effective one hundred percent all of the time. Our researchers at Great Canadian Revierws have found during a lengthy trial period that Kaspersky Pure 3.0 is the best value for top computing security and peace of mind.
Kaspersky Lab's offer great products, plus excellent technical online or telephone support when needed. Does a Kaspersky product offer great protection and value for the money? Take my word for it and download a trial version and try the program. Buying Kaspersky Pure 3.0 to help keep your computers safe is the best protection for the money. It is licensed for three PC's/laptops, backed by online, and phone support when required. Visit Kasperskys product web link below for more information.